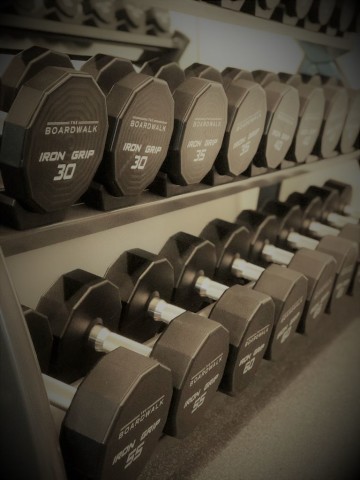 IRVINE CA. | FEBRUARY 1, 2018 – The Boardwalk, a new Class A office campus has opened.  The 7.5 acre project includes; two nine-story towers totaling approximately 545,000 square feet of premier office space, 5,000 square feet of restaurant-focused retail and two acres of landscaped open space.
The Boardwalk's best-in-class design features include an on-site fitness center for the tenants.  The space was designed by Gensler working exclusively with The Dumbell Man Fitness Equipment® (TDM).   The fitness experience is offered in a colorful engaging space, maintaining an effective and safe workout.
A variety of cardio machines, custom designed Cybex Eagle® strength machines and Iron Grip® free weight equipment help create a five star gym on the lobby floor.  The new space features a group studio for yoga; indoor cycling and cross fit exercises with a virtual training program.   TDM has collaborated with on site management CBRE for program training, service, and maintenance schedules.
For more information, please visit: http://theboardwalkoc.com/home.axis