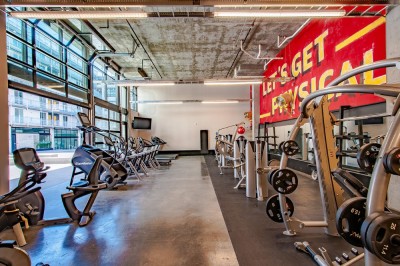 SAN DIEGO, CA. | NOVEMBER 13, 2017 – The IDEA1 Loft Apartments has opened in San Diego "where Style meets Life well lived." Residents will now have access to a 2000 square foot exercise facility designed and supplied by The Dumbell Man Fitness Equipment® (TDM).
TDM teamed with Lowe Enterprises and I.D.E.A. Partners to create the fitness amenity at the mixed-use development in the I.D.E.A. District.  The space includes cardio units, selectorized strength and free weight equipment,  and a one of a kind cross training area.
Residents now have a chance to "cross train" using the variety of fitness offerings including TRX® for the novice and hard core enthusiast. Cybex® cardio, Hoist® dual strength machines and free weights complement the unique and capacious space.
For more information, please visit:  http://www.idea1sandiego.com/idea1-san-diego-ca/