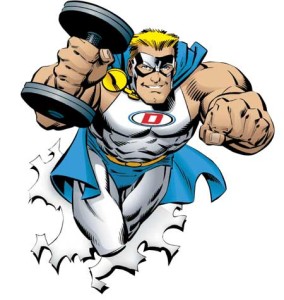 The Dumbell Man Fitness Equipment was founded by current President / Owner Michael Garvey in 1990. Michael began his career in the industry in 1980 as a fitness instructor. After a ten year career as fitness trainer and club manager, he was looking for a new opportunity. He turned down a lucrative offer outside of the health and fitness business to pursue his passion for exercise. Since its inception, Michael's commitment to integrity, value, and professionalism has shaped the company and let to successful business relationships for nearly a quarter of a century.
Originally a tongue-in-cheek selection as a memorable name for the business, The Dumbell Man has proven to be a unique representation of the fitness company's brand. What began as a recreational opportunity to maintain involvement in the fitness industry has grown into an industry leading concept that supports consultative sales, delivery / installation, service, and planning for a wide variety of clients throughout the U.S. and select international locations.
Employing a "Team" concept has ensured customers remain the top priority throughout the process of supplying quality exercise equipment. From planning and design, sales and installation, to product training and preventive maintenance service, TDM's goal is complete customer satisfaction. The model is simple: Offer a variety of products, competitive prices and great customer service. Rather than pushing a particular brand, the focus has always been finding solutions to "what's most important" for our customers.
The experience we've gained over the last 20 years helps us to ask the right questions. The majority of our customers are not in the fitness business. We want to know what makes others successful in their business, then use our resources to add to that success. This allows us to understand our clients' vision and create that using the best products, service, and education available.
This degree of specialization allows TDM to serve market segments including hospitality, corporate wellness, multi-family housing, municipalities, education, police and fire, resorts and country clubs, private health clubs, medical facilities, and more. Understanding the customer's needs, especially when fitness is offered as an amenity independent of the core business allows TDM to take advantage of the thousands of clients served and offer up that experience when designing, planning, and incorporating fitness and exercise equipment.
Unlike most fitness business contemporaries, Michael's vision for The Dumbell Man was never to be the biggest or the fastest growing, but rather to passionately serve the industry and deliver complete customer satisfaction. At a time when nearly all fitness equipment dealers outsource their labor, The Dumbell Man has made a commitment to directly employ its own service, delivery / installation, and maintenance staff, ensuring control and a strict dedication to providing excellent client service. Michael continually measures his success by his enjoyment working with great co-workers, great customers, and suppliers and partners that conduct business with honesty and integrity.
Over the years, TDM has developed a specialization in the creation of performance, health and wellness and "Inclusive" fitness centers in a variety of market segments. The Dumbell Man's work to design and provide accessible facilities for the disabled and promote the utilization of accessible equipment is strongly supported by its vendor partners. From both a personal and professional standpoint, Michael Garvey's involvement in promoting inclusive fitness has been unparalleled, ranging from a multitude of fund-raising events, equipment donations, as well as rendering expert testimony to the Department of Justice for means and methods to promote increased access to the health and wellness industry.
Michael's idea is simple: use business to make a difference. Creating opportunities where both employees and customers can come together makes perfect sense in building long-term relationships. "Doing well by doing good" sends the right message: The Dumbell Man is a company that wants to give back and support the community.
TDM has maintained its corporate offices in the Los Angeles area of California since the business opened. Developments with strategic vendor partners called for the expansion into Las Vegas, NV, where The Dumbell Man enjoys a firm presence both on and off "The Strip". Additionally, TDM operates remote locations in the San Fernando Valley, San Diego, Riverside, San Francisco and the Palm Springs area.